We were introduced back in 2008 by our mutual friend Alessandra Piccioni. On numerous occasions since then we have jammed and gigged together in Rome, he playing piano (which he has recently taken up nd plays skillfully) and me on one of his basses.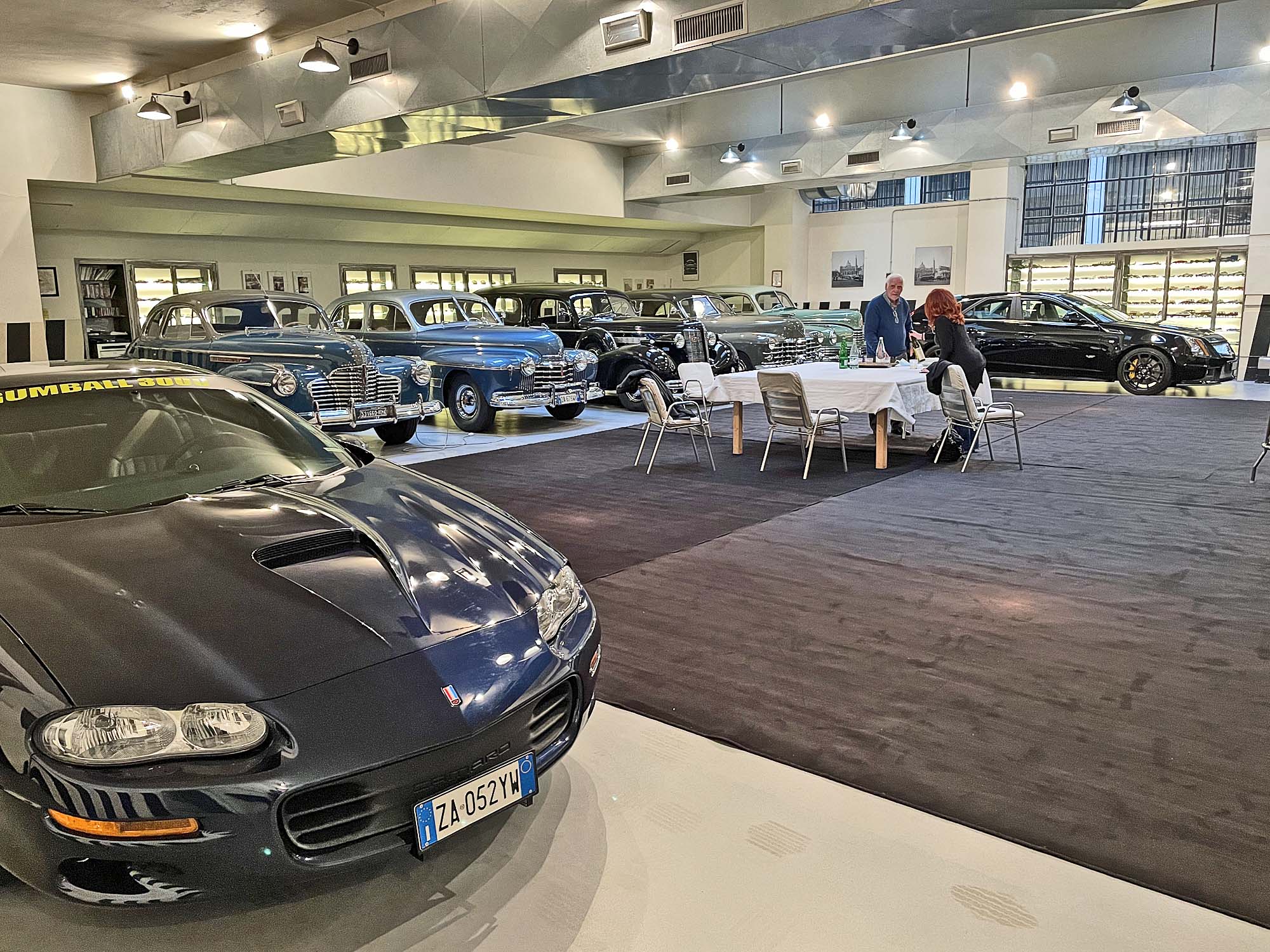 Perhaps the most extraordinary of these gigs was in the classic car museum of his friend Bulgari the jewelry magnate.
September 19th, 2022, in Rome: I spent the afternoon and evening with him. We played music at his place. He played piano and Marcello Zini played guitar. I played Giorgio's bass, which is really an amazing instrument. It's from 1840 which makes it 180 years old. It's had a lot of work on it. It was a joy to play. It's really set up perfectly -- both low action and deep tone, plenty of volume.
Giorgio tells stories that are wonderful to hear. He's quite modest and self-effacing, but when you get him going, he tells some good ones. He was born in 1939, in Sicily where his family lived. When he was four, with his 14 year old brother he went every morning to the bakery to get fresh bread. They had to go early, before it ran out. It was World War II. On their way they passed an encampment of US Marines, one of the Negro units, I guess; he said that they were all Black. They had tents and fencing around it. They had a guitar and played the blues. The boys had never heard anything like it and were fascinated. The soldiers invited them in and they hung around and listened and forgot all about the bread. Later when they got home they were in big trouble. But that, he said, set him on the path to being a musician.
In his teens, he studied music at the conservatory. He wanted to learn the guitar, like those Marines that he'd seen 10 or 12 years before but the conservatory didn't have any guitars and they weren't teaching it. They had only classical instruments. So they said, well, here's a bass, study it. That gave him the career of a lifetime. He learned classical chops first and though it wasn't what he wanted, he later was glad of it.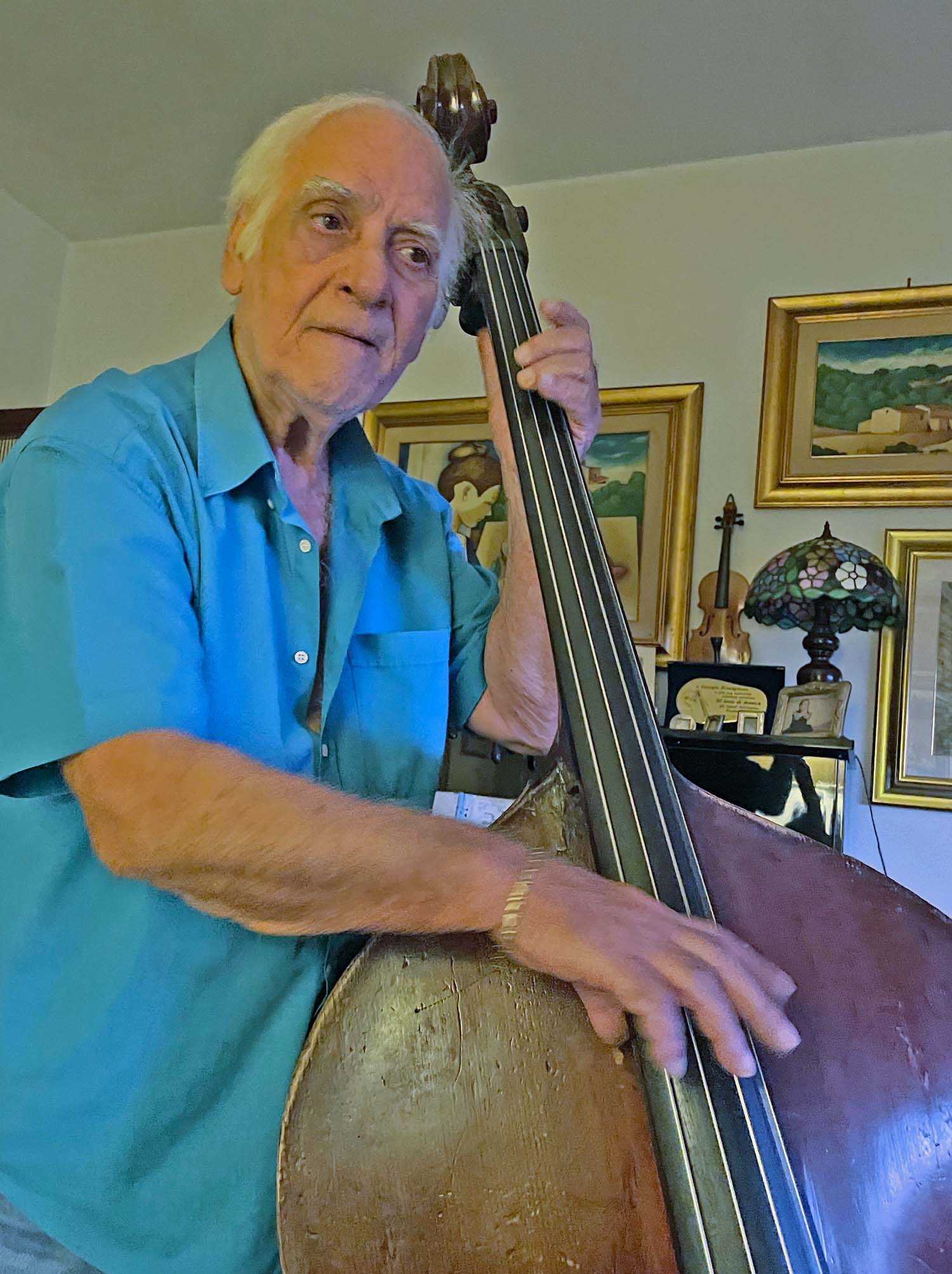 He said the students had to sneak the instruments out to play jazz when no faculty was around; this uncouth music was forbidden.
He had an incredible career. He worked for 50 or 60 years mainly for RAI, Italy's TV network. He was the principle bassist in the RAI orchestra. He also played for movie soundtracks, pop festivals, and concerts worldwide. For many years he played the San Remo festival, Italy's hugest, very glitzy and full of celebrities. Once in the early eighties he even was the orchestra conductor.
The list of people that he's played with is mind boggling. He played with Freddy Hubbard. He played with Mina and everyone famous in Italy. He's played in Fellini movie soundtracks. He played on Ennio Morricone and Nino Rota soundtracks. He played on The Godfather. He's very proud of that. He's worked with everybody famous in Italy.
He says he's just lucky. Though he also says you have to work hard and be ready for anything. Clearly he was.